concrete pump Rental

Concrete pumping Service

Toronto, Ontario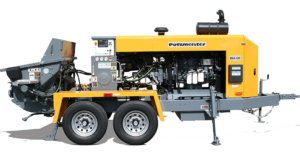 Concrete Line Pumps Trucks available for rent
We Provide Concrete Pump Truck Rental Service In Toronto, the type of pumps we provide are Line Pumps Rental. These pumps are usually referred to as trailer-mounted pumps or truck-mounted concrete pumps because of their arrangement. They are compact and recommended for small construction projects. Line pumps are perfect for locations that a boom pump can't reach. We place the pipes on the floor and pump the concrete in those hard-to-access areas. All of our Pumps are equipped with 4, 3, and 2-inch hoses to meet a wide variety of needs. When choosing the right type of concrete pump truck for a particular construction project, factors like the design of concrete mix, vertical and horizontal distances, size of the aggregate being used, volume or quantity of concrete should be carefully considered. With our 4-inch hose, we can pump up to a maximum of 3/4 inch crushed stone mix. Our 3-inch hose we can pump up to a maximum of 3/8 inch pea gravel mix, and our 2-inch hose is used for filling block foundations with grout. We can pump all kinds of concrete including lightweight or foamed, fluid, fiber, grout, or self-compacting concrete.
Our concrete pump truck rentals are versatile and portable units that are designed to meet a wide variety of applications. They Make navigating congested job sites and busy streets a walk in the park. This type of concrete line pump is perfect for those locations that a boom pump can't reach, such as a basement, narrow spaces, and back yards. Whether you are underpinning a wall, replacing an indoor slab, pouring under a roadway, or just placing a driveway, line pumps trucks re the economical workhorse of the concrete pumping world.
what makes Us Different From Others?
We believe in forging long-term relationships with our customers based on trust and value that's why we provide the Best service of 
Concrete Pump Truck Rental in Toronto
. This prompts us to give you our best services and access at the most transparent pricing, with no hidden costs. We always dispatch two trained, professional operators on every job for the price of one. This makes the set-up time before a job and clean up after a lot faster
and smoother, saving customers time and completing jobs 
in a 
timely manner.
What We Offers Our Customers?
Our concrete pumping team takes great pride in treating every job as a special opportunity. We give customers our best services and access at the most transparent pricing, with no hidden costs. We offer contractors a special program for discounted prices. For more information, you can Contact Us
We proudly offer Concrete Pump Rentals and Concrete Pumping services for any residential or commercial projects. Our service is available in Toronto, Mississauga, Brampton, Markham, Vaughan, Newmarket, Richmond Hill, Oakville, Burlington, Caledon, Aurora, East Gwillimbury, Halton Hills, King, Milton, Oshawa, Pickering, Whitchurch-Stouffville, and Whitby. Out-of-town rates are available on request.
Background about pump Trucks

Concrete pumps are machines for conveying liquid concrete. In the 20th century, many designs of concrete pumps were invented, but It was Friedrich Wilhelm Schwing's company Schwing GmbH who invented the twin hydraulic design in 1957. The twin hydraulic concrete pump design has now become the standard design for concrete pumps worldwide, most concrete pump manufacturers have started using twin hydraulic concrete pumps. The twin hydraulic concrete pump works by one piston drawing liquid concrete into a cylinder from a hopper while the other one simultaneously pushes its concrete out into the discharge pipes
As demand grew for concrete to be pumped further and higher, the flat gate valve in use at the time could not cope with the pressures required. In 1982, Schwing patented the "Rock Valve" design. This was ready to work at a much higher pressure and allowed concrete to be pumped much further and higher than before. The wide mouth of the Rock Valve also keeps the system stable and has less wear due to the low friction design. The concrete is only scraping against one side of the valve at any one time, cutting the wear by 50% compared to other designs.
Concrete Pumps were important in revolutionizing the construction industry, before concrete pumps, cranes had been used to lift large buckets full of concrete up to where it was needed. There are many advantages in pumping concrete over the bucket and crane method, being able to pump concrete much faster than buckets could lift it gave a constant supply of concrete to the top of the building and the placing hoses can be positioned wherever they need the concrete rather than having to distribute a two cubic yard mound of concrete over the desired area.
Toronto's Best Concrete Pump Rental Service