Concrete Pump Truck Rental
Concrete Pump Truck Rentals - Concrete pumping available Toronto, Ontario
Welcome to Concrete Pump truck Rental in Toronto
We Proudly Offer Concrete Pump Truck Rentals In Toronto, We are Toronto's #1 concrete pump truck supplier, We specialize in concrete line pump trucks also knows as trailer pumps. We provide Concrete pump trucks for residential or commercial concrete pumping projects. Whether it's a difficult pour or simply a basement floor our staff has the experience to assist you with any concrete pump truck application. We are dedicated to the success of your project, available 24/7. 
Concrete Pumping is an efficient, reliable, and economical means of placing concrete. Our concrete pumping service is available in the  Greater Toronto Area, Whether Pumping Concrete around a corner through an alleyway and even upstairs. Our concrete pumps can deliver the concrete exactly where it needs to be, saving time and money.
Concrete line pump trucks are ideal for those locations that boom pumps can't reach, like a basement, narrow spaces, and back yards, 
Concrete Pump Truck Rental & Concrete Pumping Service
Customers are the foundation of our business, Retaining Customers by providing world-class concrete pump truck rental service with the best employees in the business is our goal. We provide Concrete Pumping Service in Toronto and surrounding areas. We can pump all kinds of concrete including lightweight or foamed, Fiber concrete, and much more.
Our team of concrete line pump operators are well-trained professionals. Our team can place concrete in the hardest-to-access areas. Concrete Pump Rental offers an end-to-end client experience that includes seamless communication, budgeting, staffing, on-site organization. Whatever the demands of your project, we have a practical concrete pumping solution.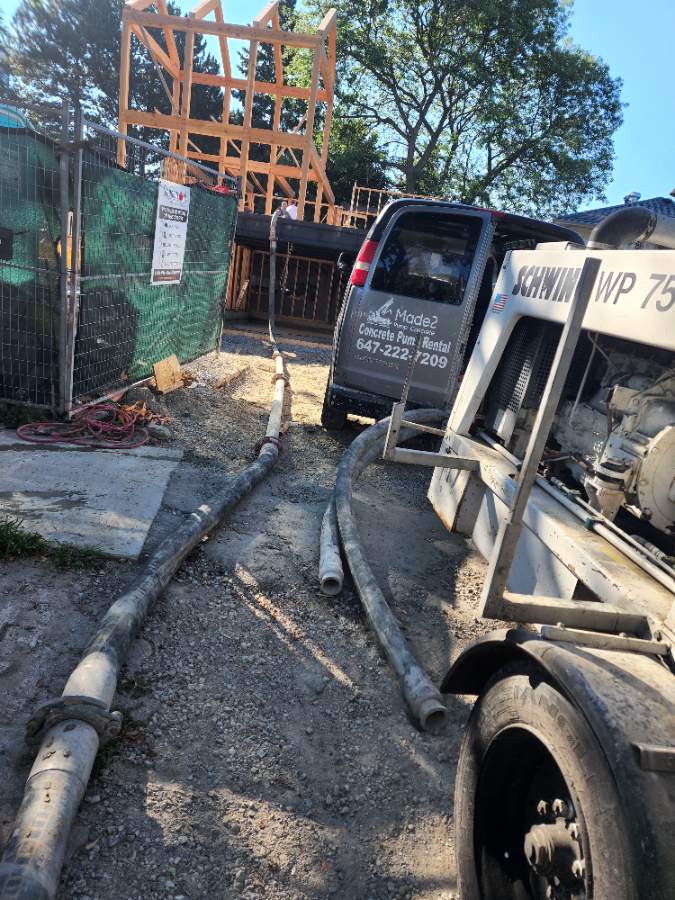 Toronto's #1 concrete pump truck rental company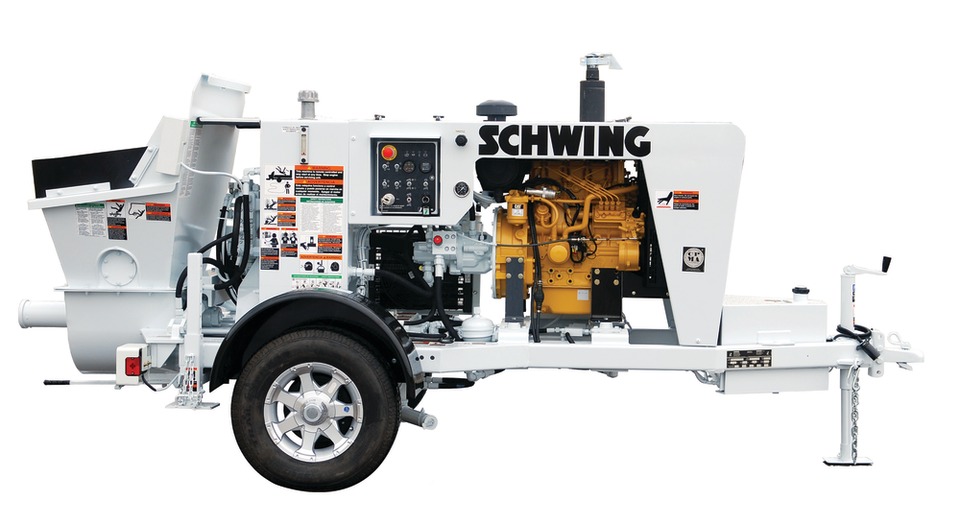 Toronto's #1 Concrete Pumping Service
The capacity of concrete trailer pumps is far greater than other types of pumps and also costs less than boom pumps. The trailer arrangement makes it easier to transport the concrete pump to the required location just by attaching it to a vehicle and towing.  All of our concrete pump truck rentals are equipped to meet a wide variety of concrete pumping needs.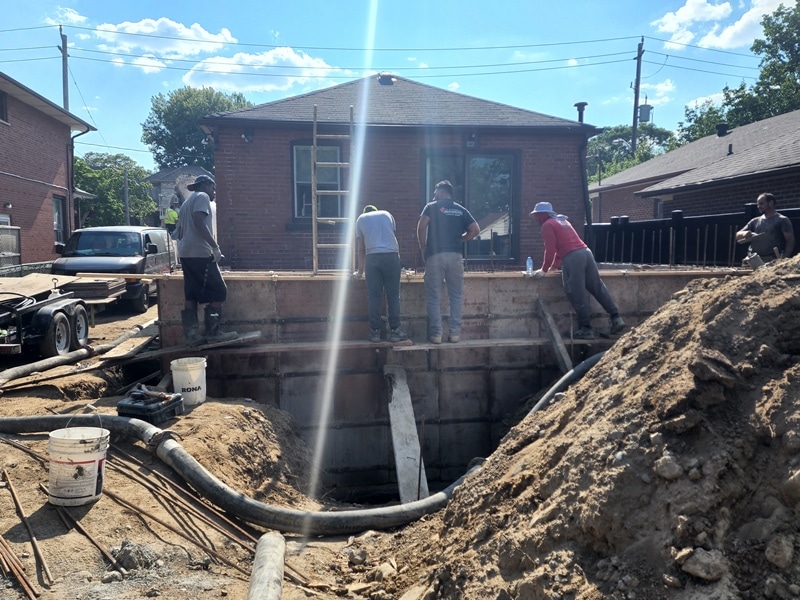 Professional Operators: 
We always dispatch two trained professional operators with every concrete line pump rental, Making the set-up time and clean a lot faster and smoother, saving customers time, and completing jobs promptly.
Flexibility: 
The main advantage of pumping concrete with a concrete pump truck is the flexibility that comes with the pipeline. It can be increased, decreased, and turned as per the need.
Faster Placement Of Concrete: 
Concrete is placed faster by employing a concrete pump truck. Construction workers can ensure increased efficiency. The faster placement of concrete allows workers to satisfy their deadlines for the day,
Reduced Labour Costs:
A job that would take five men two and a half hours to pour with wheelbarrows would only take three men one hour with our concrete pump truck rental. Contractors who employ a concrete pump truck consistently report labor savings of 50% compared to truck and wheelbarrow methods, reducing the number of people needed on-site. As such, businesses can enjoy a lower investment in labor
Improved Accuracy And Quality:
A concrete pump truck allows for improved accuracy and quality. The concrete poured from a concrete pump truck often provides a much stronger and durable result than traditional mix-and-pour methods. It is also a much more streamlined and smooth-running process
Professional Operators: 
We always dispatch two trained professional operators with every concrete pump rental, Making the set-up time and clean a lot faster and smoother, saving customers time, and completing jobs promptly. 
ask about our Contractors Program
Join our contractor's program and get discounted rates for concrete pump truck rental & concrete pumping terms and conditions apply.
Available in Toronto, Old Toronto, North York, East York, York, Etobicoke, Scarborough, Mississauga, Brampton, Bradford, Markham, Vaughan, Newmarket, Richmond Hill, Oakville, Burlington, Caledon, Aurora, East Gwillimbury, Halton Hills, King, Milton, Oshawa, Pickering,  Whitchurch-Stouffville, Orangeville, Whitby.
Concrete Line Pumps Available for rent
Concrete Line pumps are portable, towable, small concrete pump trucks used for many concrete pumping applications. Also called concrete trailer pumps, stationary or line or static concrete pumps. A trailer-mounted concrete line pump is a type of concrete pump generally mounted on a single axle or multi-axle trailer. These line pumps are transported to construction sites by attaching them to a suitable vehicle. They can be used to pump concrete, shotcrete, grout, mortar, foamed concrete, and flowable fill.
Being a small concrete pump and also a very mobile concrete pump truck, a line pump can fit into tight, confined areas of a construction site that a larger boom pump truck, because of its outriggers, just won't fit.
These concrete line pumps have steel and rubber concrete pump hoses that attach to an outlet on the concrete line pump. The concrete pump truck hose can range in diameter from 2 inches to 5 inches and are usually 10 feet long. The larger diameter hoses 3, 4, and 5 inches are typically used for pumping concrete and the 2-inch pump hose is mostly used for pumping grout and shotcrete.
The concrete pump truck hoses are connected together with concrete pump clamps reaching horizontal lengths from 20 to 1500 feet. The volume of concrete pumped through a line pump varies depending on the size of the line pump and the diameter of the concrete pump truck pipe, most can pump 30 cubic Meters per hour but some outputs can be as high as 150 cubic Meters per hour.
The smaller diameter pump hoses combined with a portable, small concrete trailer pump make pumping swimming pools, residential basement floors, and hard-to-reach interior commercial floors much easier than using wheelbarrows or concrete buggies.
Advantages
The main advantage of a concrete line pump is the flexibility that comes with the pipeline appendages which can be increased, decreased, and turned as per the need. Hence, concreting can be done easily at greater heights or depths or unreachable lengths using this pump.
Horizontal pumping up to a distance of 2000 meters and vertical pumping up to a distance of 400 meters can be done using a trailer-mounted concrete pump.
Numerous pipelines can be stretched from one concrete pump. Hence, relocation of the concrete pipeline can be eliminated which is extremely useful in case of a larger area or multi-story buildings.
Concrete pump trucks of different capacities are available according to the size of the work. 
The capacity of trailer mounted concrete line pumps is far greater than other types of pumps such as truck mounted or mobile concrete pumps.
The trailer arrangement makes it easier to transport the concrete pump to the required location just by attaching it to a vehicle.
This type of pump is more useful for concreting in tunnels, bridge structures, and power stations, basements, hard-to-reach areas, etc. where concrete boom pumps cannot reach
Concrete Pumping & Concrete Pump Truck applications
A concrete pump is a machine used to transfer liquid concrete, using a concrete pump truck is a more efficient way of pouring concrete,  There are two basic types of pumps that are used, a concrete 'boom pump' and the other is commonly called a concrete line pump or concrete trailer pump. Line pumps are versatile, portable units that are designed for a wide variety of applications. They make navigating congested job sites and busy streets a walk in the park.
Concrete pumping results in a more stable end product. For the customer, a more durable concrete product means you won't have to pay for maintenance or a brand new pour for a longer period of time, which is going to save money and manpower.
Sidewalks and driveways: In the construction of a new home, many homeowners focus most intently on the house itself. Still, the sidewalk and driveway are also essential elements. Some homeowners are tempted to pour the driveway and sidewalks themselves, but engaging a professional contracting company that can provide a concrete pump truck such as a concrete line pump is often the best bet for a smooth, stable, and properly cured driveway and sidewalk.
Patios and garden shed foundations: As with backyard swimming pools, backyard patios and garden shed foundations are perfectly suited to concrete pumps. Concrete Line pumps can reach into the backyard from the street and pour the concrete slabs for these features in no time.
Building foundations with basements: For buildings with basements, the process of laying the foundation is more complicated. Concrete pumps like boom pumps are crucial so there are no time delays in which errors can occur or part of the concrete can harden before it's ready. Using line pumps for basement foundations helps ensure that the building project can be completed on time.
Slab building foundations: Buildings that don't have basements have flat slabs of concrete as their foundations. It's essential to have a solid foundation that won't let in water and crack or sag. Concrete pumps are critical so the work goes quickly and smoothly and the concrete ends up where it should be. That way, no imperfections can occur in the foundation.
In-ground swimming pools: An in-ground swimming pool has a concrete foundation, much the way a basement does. Concrete pumps, especially line pumps, offer a particular advantage in the construction of backyard swimming pools. No one wants a heavy truck driving through the back yard, but a line pump can easily reach from the street and pour the concrete with minimal disruption to the yard.
Difference between a Boom  and concrete Line pump
Boom pumps are truck-mounted pumps that use an arm (boom)to place concrete, Line Pumps are trailer mounted and run concrete pumping hose on the ground to the pour site.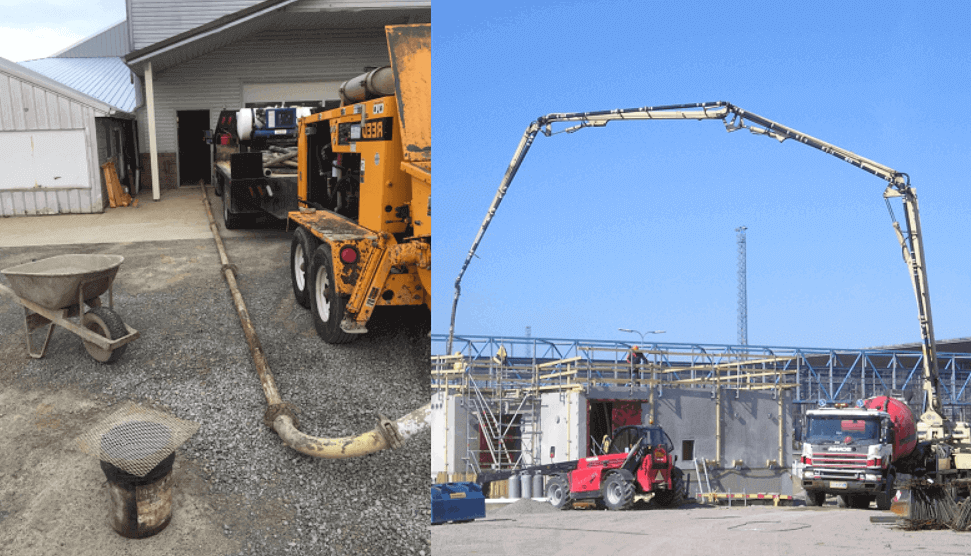 Line Pump Advantages 
Line pumps are stationary pumps mounted on trailers. The hose is placed along the ground and is great for horizontal pumping, you can add as much hose as you need up to 1000ft. Concrete line pumps are much smaller and more compact than boom pumps making them much easier to transport and maneuver around a job site.
Trailer pumps are perfect for pouring concrete on smaller residential jobs, like backyards, basements, swimming pools, and driveways. Line pumps are perfect for busy downtown streets where boom pumps can't fit, also line pumps are a lot quieter
Boom Pump Advantages
The advantage of using a boom pump is it can pump a lot more concrete compared to a line pump in a shorter amount of time, even from great heights, and with great accuracy. Another advantage of the boom pump is its configuration allows you to maneuver around a busy construction site and allowing concrete in areas that may have otherwise been inaccessible.
The speed and high volume capacity of boom pumps make them the best choice if you have a large-scale project that requires a lot of concrete, such as the construction of an apartment building or another large facility.
If a construction site has a lot of obstacles like bridges or other structures a boom pump would be the best option as the arm can reach over such an obstacle
Summary
For smaller commercial or residential jobs, line pump trucks are usually a better choice. You have more flexibility as to where you can deliver the concrete. You will save money relative to a boom pump, the concrete does not pour as fast, but it will usually be sufficient for the needs of a smaller projects.